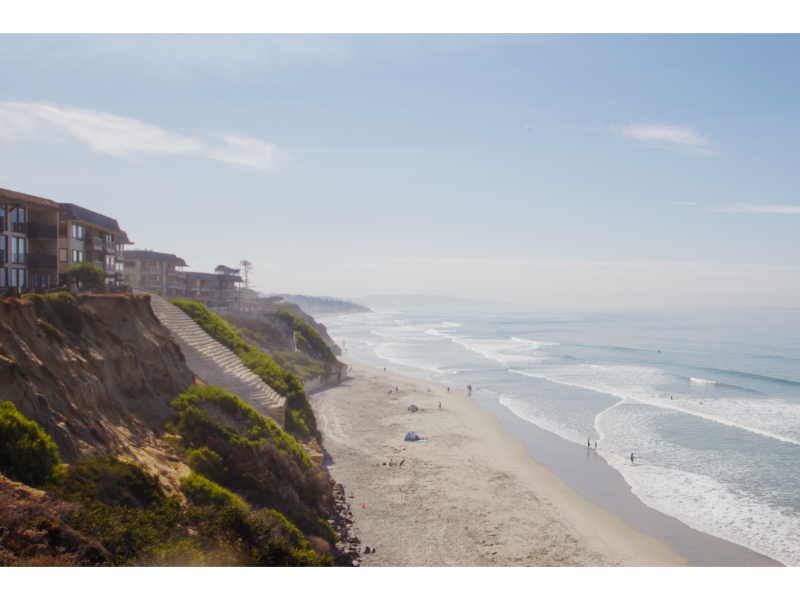 Living in Solana Beach
One of Solana Beach's taglines is "Walk where you're going", highlighting the city's walkability. Indeed, getting around Solana Beach on foot is easy and enjoyable, with most shops, restaurants, and services within a 30-minute walking distance from Fletcher Cove, the city's main beach. Solana Beach boasts 1.7 miles of coastline, divided into three to five main areas. Fletcher Cove is the main beach destination as it is the most accessible whether in high tide or low tide. The city sits on a bluff overlooking the ocean, and the views of the cliffs from the beach are spectacular.  Above the beaches are grassy parks equipped with playgrounds, sports courts, picnic areas, and other amenities. Some of Solana Beach's most expensive homes can also be found on blufftops overlooking the ocean. The city is also known as a foodie haven, featuring acclaimed restaurants such as
Claire's on Cedros
,
Homestead Cafe and Neighborhood Market
,
Rare Society
, and many more.  Solana Beach is also home to some of the hottest bars and music venues in San Diego, including the legendary
Belly Up Tavern
. The annual beachside music festival,
Fiesta del Sol
, is attended by thousands of locals and visitors every year.   The jewel of Solana Beach is
Cedros Avenue Design District
, which features 2 ½ blocks of shops, boutiques, and art galleries, selling fashion items, artworks, jewelry, and more. 
Explore the Solana Beach lifestyle today
Learn more about living in Solana Beach with Julie Boyadjian. Since 2007, Julie has helped hundreds of clients have a smooth real estate experience in San Diego County and she would be very happy to do the same for you.
Call Julie at 619.250.1129 or leave a message here to get started.

Sorry we are experiencing system issues. Please try again.

Solana Beach may not be as famous as its neighbors Del Mar to the south and Encinitas to the north, but this beautiful coastal city has been on the radar of discriminating tourists and residents throughout its long history. Solana Beach has received numerous accolades over the years, including one of best places to live in America by 24/7 Wall Street, and one of the top small beach getaways in America by Travel + Leisure Magazine.