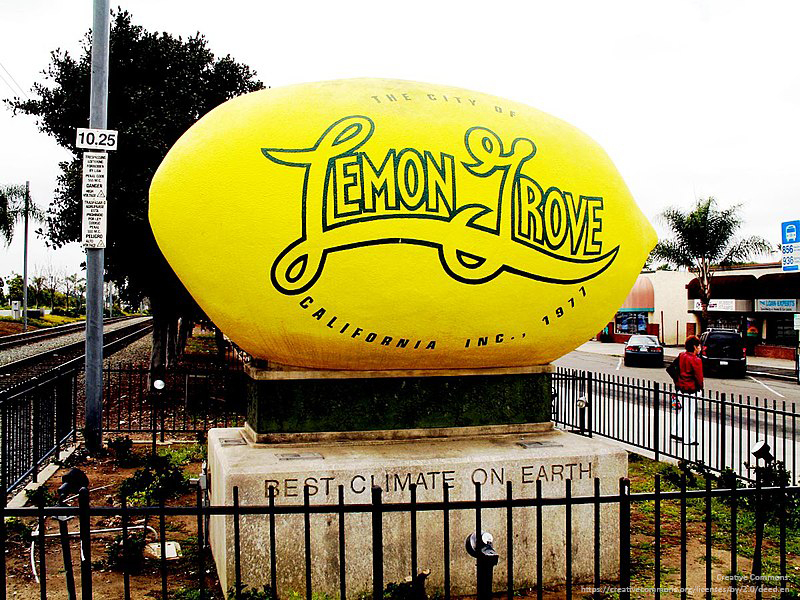 Living in Lemon Grove
Lemon Grove got its name from the numerous lemon orchards that once flourished in the area. While most of the citrus groves have given way to residential developments, you can still find quite a few lemon trees around the community. A small lemon orchard is planted next to city hall, commemorating the city's agricultural roots. Lemon Grove's iconic landmark is aptly a giant lemon sculpture displayed by the entrance to the area. The sculpture is displayed on a concrete base where the city's slogan, "Best Climate on Earth", is painted on. Indeed, the climate at Lemon Grove is wonderfully pleasant all year round, giving residents plenty of opportunities to engage in healthy and fun outdoor activities.  Unlike many San Diego communities where tourism defines the list of activities, Lemon Grove focuses inwardly, with programs that aim to promote sustainability, wellness, and healthy living in the city. The
Lemon Grove HEAL Zone
, a project adopted by the city in partnership with Kaiser Permanente, has successfully completed the installation of exercise equipment in local parks. Residents are actively engaged in
The Lemon Grove Community Garden
. The city is also a partner in
Live Well San Diego,
a nonprofit that aims to educate San Diego locals about the importance of healthy living.  Other community events in Lemon Grove include concerts and summer movies in the park, an annual community bonfire, and an annual
Toy and Food Drive. 
Explore the Lemon Grove lifestyle today
Learn more about living in Lakeside with Julie Boyadjian. Since 2007, Julie has helped hundreds of clients have a smooth real estate experience in San Diego County and she would be very happy to do the same for you.
Call Julie at 619.250.1129 or leave a message
here
to get started.

Sorry we are experiencing system issues. Please try again.

Lemon Grove is a family-friendly city located just nine miles west of Downtown San Diego. If you're looking for a convenient location in the metro with relatively more affordable home prices, you will find Lemon Grove to be a great option. Living here, you can enjoy all the perks of a housing market that's still in the throes of growth, as well as a city that's focused on fostering community ties above everything else.