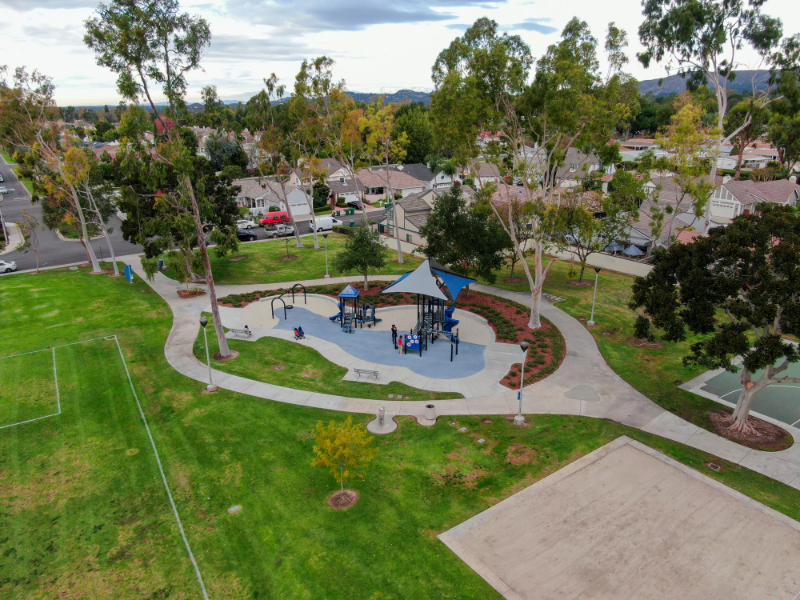 Located just 25 miles north of Downtown San Diego, 4S Ranch is a close-knit, planned community. The village is surrounded by mountains, lakes, wide open spaces, and boasts tranquil neighborhoods where everything you need is within easy reach.
Living in 4S Ranch
4S Ranch has an active master homeowners' association that goes beyond overseeing the maintenance of the common areas. The group also organizes special events to foster community spirit, such as summer and winter soirees, Easter egg hunts, holiday celebrations, and much more. 
There are six community parks, each offering unique features and activities. Residents enjoy a wide array of facilities, including a splash pad, sports fields and courts, playgrounds, a rollerskating rink, and more.
For shopping, dining, and entertainment, locals go to 4S Commons Town Center, a charming retail destination with numerous shops, services, and restaurants. The mall plays a central role in the 4S Ranch lifestyle. Whether you're going on a bank errand, need some groceries on the fly, or looking for some pampering at a spa, you can find everything you need at Commons Town Center.
Access to highly rated schools is another great reason to call 4S Ranch home. The community is served by Poway Unified School District, the third largest school district in San Diego County. 
The top-rated schools in and around 4S Ranch include Del Norte High School, Oak Valley Middle School, Stone Ranch Elementary School, and Del Sur Elementary School
Explore the 4S Ranch lifestyle today
Learn more about living in 4S Ranch with Julie Boyadjian. Since 2007, Julie has helped hundreds of clients have a smooth real estate experience in San Diego County and she would be very happy to do the same for you. Call Julie at 619.250.1129 or leave a message here to get started.

Sorry we are experiencing system issues. Please try again.